Poet Martin Shaw says "perhaps we do not choose a place but a place claims us." Maybe it is the same for our work. l feel that somehow painting has claimed me.
I think our lives are a kind of hero's journey. We follow a trail of bread crumbs and arrive at open clearings of discovery along the way. If we look back we can see sign posts, though we never knew where they were leading us at the time. And along the way we inevitably pass through some dark forests. My paintings evolve in much the same way. The dark forests become the underpainting, sometimes many layers when the forest is thick.
The creative adventure is always reckless.

– Jospeh Campbell
My painting feels like a kind of alchemy. All that I hear and see is taken deep inside, shaken and stirred and transmuted into a magical cocktail: stillness, moss, spiritual practice, fallen twigs, conversations, the night sky. They are there on the canvas.
I invite you to contemplate what has claimed you and explore your own magical, alchemical process. I hope my words and images invite you not only into my world but into the depth of your own.
Please join me on this shared inner journey.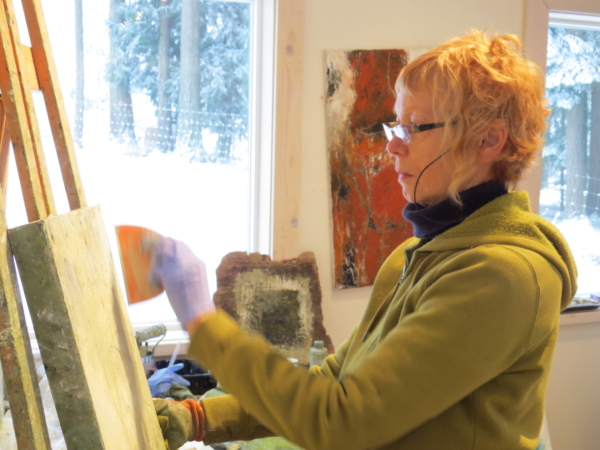 I believe that if a painting speaks to you, it is because somehow you have connected with the deeper layers of mystery that it came from.

My work is built in layers in much the same way we humans are. Materials are different, unless of course you are made of cold wax, water soluble oils, ash and charcoal :). Scratching into the deeper layers either while the paint is wet or dry forms a huge part of my process and feels accidentally metaphorical for my interest in the depth of these human lives we lead.
For me each painting evolves as an exploration, some more long and winding than others. I step back and try to listen to what the work has to say in much the same way a writer lets the characters tell the story.
Each painting is accompanied by some words that are connected to the work, not in a cause and effect kind of way, but as a little word/image vitamin pack offered to you, it's new owner.

Where Have They Gone?
My work is in homes from Norway and Scotland to the US, Canada and Singapore. It has appeared in Tricycle Magazine, Buddhadharma Magazine and on the cover of the book "Lotus Petals In The Snow." Two small works are in the Postal Art Collection of The National Museum of Canada.