Poet Mary Oliver says, "there is little the creatively inclined person can do but to prepare himself, body and spirit for the labor to come – for his adventures are all unknown."
My life has unfolded much in the same way as one of my abstract paintings. Starting with a random mark or act, powered by curiosity and openness I have followed threads. Sometimes it is completely surprising and perfect where we end up. This is how I morphed from a drawer of words and stories into a painter.
The creative adventure is always reckless.

– Jospeh Campbell
I believe our inner and outer worlds are deeply connected, more than we know. Some photos taken of the pond near my studio startled me with their strong resemblance to my abstract images. The scratchings in my work were the fallen twigs and the bare branches of the alders. The greens and blues were the reflections of the land skirting the pond.
Stillness and spaciousness nourish both my art and my inner life.  It is my experience that anything we do can be a prayer or a meditation. I believe we are all more powerful than we take ourselves to be, that our strongest navigational tool is our heart.
As much as possible my work incorporates more environmentally friendly materials like water mixable oils, earth pigments, dirt and ash.

Who are we, really? Works in progress, I think. Our shared stories connecting us little human dots.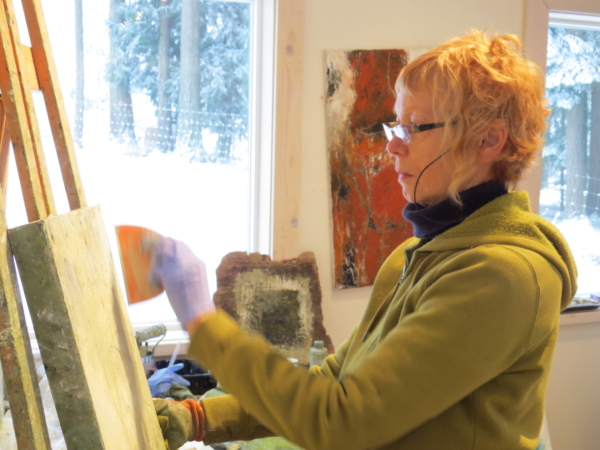 As a classic introvert I have always been deeply drawn to the inner life. I believe that our inclinations and interests have mysterious origins and that the best navigational powers come from the heart.
I find potent magic in homeopathy, qi gong, and strong coffee.  For me, words are vitamins and colours and shapes are a powerful tonic.  I am revitalized by inspirational readings and restored by what my eye is drawn to. I am a design junkie, set off to accidentally redecorate entire rooms after changing one small piece.
I often tell people I live in a cave on a small island. I've been warned not to say so by someone who likely thought I was bringing a curse upon myself, but somehow I can't kick the habit. The truth is not far off. I do live on a small island, and I am endlessly occupied with the details of life.  I have come to believe that everything is alive and sacred.

And with a nod to the mundane
My work is in homes from Norway and Scotland to the US, Canada and Singapore. It has appeared in Tricycle Magazine, Buddhadharma Magazine and on the cover of the book "Lotus Petals In The Snow." Two small works are in the Postal Art Collection of The National Museum of Canada.