My art is largely informed by my spiritual practice. "As in life, so in the studio."
When I see the rough edges of a shape as I paint, I see our rough edges and how they are smoothed out by rubbing up against life's difficulties. The lines that I love to thread across the page speak of how everything is connected. When I scratch through layers of paint I am reminded of how much I love the deep places of life, the conversations and questions. I am always scratching below the surface for this depth.
The creative adventure is always reckless.

– Jospeh Campbell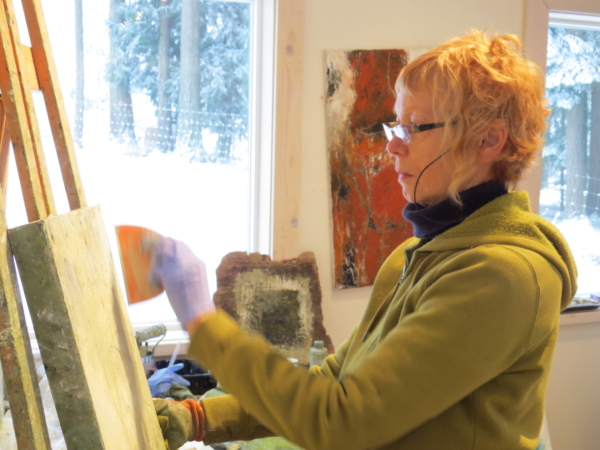 Mystery is such an underrated quality in this modern world yet it is a vital part of our aliveness. There is so much in this universe that we simply don't understand. I believe that if a painting speaks to you, it is because somehow you have connected with the deeper layers of mystery that it came from.

Space is the place where all potential exists.
My work is an exploration of that space, a reaching out to find what's there at that particular intersection of time and space.
What forms on the canvas is the result of reaching out into the unknown and finding what wants to come into being; what marks, colours, shapes. The tools chosen from the host of what's available impact the form. The work evolves in layers using scrapers, palette knives, brushes, rollers, various mark making tools; ash from the fire, earth pigments, acrylics, water mixable oils, and cold wax.
Some paintings are accompanied by words that are connected to the work, not in a cause and effect kind of way, but as a little word/image vitamin pack offered to you, it's new owner.

Where Have They Gone?
My work is in homes from Norway and Scotland to the US, Canada and Singapore. It has appeared in Tricycle Magazine, Buddhadharma Magazine and on the cover of the book "Lotus Petals In The Snow." Two small works are in the Postal Art Collection of The National Museum of Canada.